A Special Welcome Message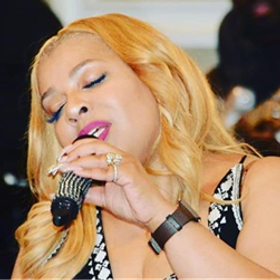 "Some thing About Mary..."
Independent Recording Artist, Singer-songwriter & Stylista
Mary Cross  IS Classic Soul …and so much more!  This independent artist, singer – songwriter and stylista possesses a smokey, jazz-infused genre-fluid voice admirable as much for the range of traditional sounds she draws upon, as her fresh and innovative interpretation in song.  Her music is bold in statement and soft in feel, her flow supple and precise. 
From Jazz, Classic Soul, Soft Rock and R&B her voice interprets lyrics that tug at heart strings while taking music lovers on a journey….as they lean in.
She prides herself in being one who has listened with deep intention to her heroes - Phyllis Hyman, Otis Redding, Nina Simone, Nancy Wilson, Oleta Adams, Patti Austin, Phoebe Snow, Gladys Knight, The Carpenters, Randy Crawford, Deniece Williams Stephen Bishop, Betty Wright, Staple Singers, Ella Fitzgerald, Sarah Vaughn, Linda Ronstadt, and more.
Few artists are the very definition of a generational talent.  Mary Cross is one of them.  She transports us to another time and place through her gift of song that appeals to music lovers worldwide.  
2021 Soul Track Female Artist of the Year nominee.
Mary's 2021 release titled PROMISE debuted at #1 on the Amazon UK Hot New Releases.
Although music is her first love, fashion is a close second, evident by the gowns and signature hat collection she adorns during performances.  Mary is the entire package… –exuding elegance and grace. She is Founder and CEO of 2NspireU, LLC
Mary has garnered a number of awards and acknowledgements from newspaper and magazines, radio and dj presenters worldwide, as well as tv and vlogs – in celebration of her partnership with non profit organizations benefiting seniors, youth and mental health communities.

Mary was a Reader's Choice Nominee for 2021 Soultracks Female Artist of the Year and is the recipient of 2021 Creative Media Tri-state Black History Award.

Her latest single titled PROMISE was #1 on the Amazon UK Soul charts upon release in January 2021.And was included as a Soultrack's Top 100 Best Soul Songs of the year!

Her repertoire consists of timeless classic music evident in her originals and cover songs from by Staples Singers, Betty Wright, Gladys Knight, Oleta Adams, Phyllis Hyman, Nina Simone, Nancy Wilson and Patti Austin, Phoebe Snow, Stylistics, O'Jays, Stephen Bishop, Linda Ronstadt, Captain and Tenielle, The Carpenters and many more!
Her highly anticipated debut album project will feature timeless classic jazz standards from the American Song book and original compositions she wrote and produced alongside other great creatives!
Mary has been featured on WHYY Concert Series, NPR Radio Times interview with Mary Cummings Jordan, Frontrunner magazine, ShoutoutLA magazine, Anointed News Journal and more.
Mary Cross 2NspireU has entertained audiences domestically and abroad including Willingboro Jazz Fest sharing the stage with Gerald Veasley.  Hotels, Universities, Healthcare facilities, Galas, Educaid Africa, Senior and  Scholarship events, Hilton Garden Inn for Jazz series; Music Festivals, Winefests,
To hear more of the music of this rising International talent, we invite you to visit her website:  www.marycrossmusic.com 
Below are lnks to a few of the many articles Mary Cross was featured in:
June 2021 article: Anointed News Journal Publication (page 8):  https://www.facebook.com/photo?fbid=10225997471349169&set=a.10225997480149389 
Soul Tracks article:  https://www.soultracks.com/first-listen-mary-cross-promise
Frontrunner:  https://frontrunnernewjersey.com/2021/01/23/mary-cross-makes-the-promise-real-in-new-single/
WHYY House Concert Series:   https://www.youtube.com/watch?v=AQ9nkZxRn20
NPR Radio Times  Interview with Host Mary Cummings-Jordan:  February 2021 
ShoutoutLA https://shoutoutla.com/meet-mary-cross-classic-soul-singer-songwriter-recording-artist-stylista/
Many radio, vlog and internet interviews worldwide.
To hear Mary's music, please visit her youtube channel:  https://www.youtube.com/watch?v=eSF1igj0dR8 
Official Music Video for latest single titled Promise features Saxophone Jazz great Carl Cox who tours with jazz legend Maysa while performing alongside a number of other artists:
https://www.youtube.com/watch?v=AKzJJQLgbwo 
I'm Glad There Is You 'Jazz  performance':  https://www.youtube.com/watch?v=maFs8GR2Yqg for DNC hosted by NABFEME
Mary continues to perform to SOLD OUT audiences.  Upcoming / recent performances include: 
Illusions Jazz on the Pike in Clifton Hts, PA; Wilson's Jazz Lounge, Hi-Nella, NJ and SOUTH Jazz venue, Philadelphia, PA.   performances include the Jefferson Health Annual Gala, Fraternity Scholarship, Hilton Garden Inn Jazz at the Waterfront 3rd Thursdays; and Kennedy Center! Mary was featured headliner for Philly's the CDC Giveback Nicetown Festival where she performed a Tribute to the music of the late great Phyllis Hyman. Mary Cross 2NspireU performed for the Willingboro Jazz Fest alongside Gerald Veasley and the amazing artists.
In addition to plug and play events, Mary Cross 2NspireU owns all audio/concert equipment and has an in-house sound engineer to handle set up/ breakdown when required.   The band name is also the Mission Statement and purpose which will always be…2NspireU.
Current music releases can be found on all music platforms.  Please visit website to view fan reviews:   www.marycrossmusic.com!